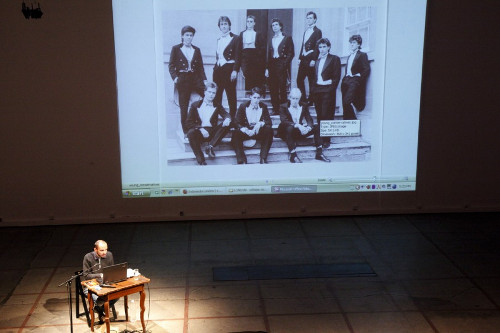 In English
How have the law on trade union recognition and its interpretation affected BECTU's ability to organise in the cinema industry?
On cinema workers' struggles London's cinema strikes represent 21st Century trade unionism at its best
An essay on the making of lebensraum | living space
On Belgrade street protests in 1996/1997 The Body Electric
On the BBC film Holocaust: A Music Memorial Film from Auschwitz
Steven Ball interview regarding my video Sundays in Majdanpek
An essay on space and time in movies: Notes on Articulation of Space and Time
What can queer tango learn from intersectionality?
In Serbo-Croatian
Intervju sa Višeslavom Radenkovićem za portal Before After o video aktivizmu
Osvrt na Skupljače perja Aleksandra Petrovića Snovi o slobodi ili daleko je Amerikkka u skraćenoj verziji prenet na portalu Peščanik, objavljen u časopisu ПРИЗОР, broj 13. 2014.
O urbanističkom projektu "Beograd na vodi", sa portala Peščanik: Krv nije voda, Beograd na steroidima
Intervju sa Marom Kern u Pečatu povodom studentskih protesta 2011. Bunt u Velikoj Britaniji – ovo je samo početak
Osvrt na prvu nedelju u Britaniji posle EU referenduma - Šta se smeškaš lutko, pakuj se!
Texts that should be available elsewhere
James Kelman's Booker Prize acceptance speech in 1994
Danilo Kiš On Nationalism, 1973
Andrei Platonov and the prospect of some potatoes
In Memoriam - Darko Novaković, 20/02/2018
Aleksandar Vučo Ćirilo i Metodije i Nemenikuće, 1932